Celebrating 18 Successful years in business this month !!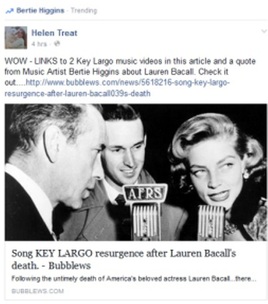 10 hours of Publicity, Promotions and Publications at an affordable price!
We are offering a special for a few weeks only. Buy 10 hours of promotions for the price of 5 hours. Normally $40.00 a hour, click the button below and get this service at $20.00 per hour. This is absolutely definitely a 1/2 price sale. Recently, we had Global Recording Artist Bertie Higgins trending on Facebook and this is what he had to say about it.
"ITS Promotions had me trending on Facebook and I didn't even know what trending was. Bertie Higgins"
​ Check out the saved image of Bertie Trending on Facebook to the right! You too can get this kind of promotion by hiring Inside the Song Promotions to promote and publicize you or your business. ITS Promotions handles all kinds of promotions for the Independent Artists to Radio Stations and small businesses across the world. You will get a piece published on The Daily Banner, Backstage Pass News or Buzz-Zinga. This offer does not include a Q & A interview - read more info below.
Promotions, Publicity, Public Relations and Possibilities at a super affordable price.
Just click the button below to make that happen.
---
Promotions and Publicity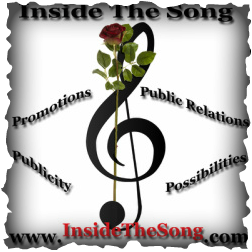 We are now offering Promotional and PR services to anyone (Indie Artists) that are currently in need of promoting their CD or any other creative project. We are freelance writers whose work has been published at several online publications that include but are not limited to AXS, The Rowdy, Examiner, Seeky, Woman's Forum, Spinner/AOL Music.
You won't find a more affordable promotional service anywhere else. We offer several different promotional products which can be reviewed below.
~~~~~~~~~~~~~~~~~~~~~~~~~~~~~~~~~~~~~~~~~~~~~~~~~~~~~~~~~~~~~~~~~~~~
Why must we charge for our services? We are a professional service who offers the same services as other PR Agencies for less than 1/2 the price. We must charge a small fee because most online publications do not pay for articles or online contact for Indie Artists, new authors or business owners.
Q&A Interviews cost a little more and they are preferred by music publications.
Scheduling, the actual interview and professional transcription of the piece necessitates the fees charged.
With all that factored in we are still the most affordable and reputable company around.
We will discuss the best placement for your piece/article/promotion and you will get very hands on service and communication.
Because of high demand for this service, we must screen prospective clients/subjects. Please send an email inquiry to ITSEntertainment@msn.com with a link to your website for our consideration. If you pay before being approved, your payment will be refunded
Additional affordable promotional services are available by ITS Entertainment for just $20.00 an hour.
Those services include but are not limited to Press Releases, Facebook, Twitter, Google, Pinterest and YouTube promotions.
Send all inquires to
ITSEntertainment@msn.com
Do you have something HUGE happening in your music/book/business? Have ITS Promotion create and distribute an affordable press release to over 200 publications that are relevant to your topic for only $50.00. No contract necessary. We tailor each service and will give you a report of where your press release has been delivered. We will do CD Reviews for $20.00 per CD which will be published on a publication where it fits best with a one hour promotion included in the price. Please send a HARD COPY CD as the CD Package itself is reviewed as well as the music on the CD. Please send CD's to ITS Promotions, P.O. Box 161, Smart, Tennessee 37378
We also offer Biography writing for $40.00 and Book Reviews for $20.00 a title.
Send all books to: ITS Promotions, P.O. Box 161, Smartt, TN 37378
---
Testimonial from Bertie Higgins - Hit Song Key Largo


Bertie Higgins had this to say about ITS Promotions. You should do this for a living (only kidding) because you are one of the best that I have ever experienced. I would love to meet you one day, kid. Again, you are the very best; such a joy to talk to. Love, Bertie

---

Testimonial from Doug Gray of Marshall Tucker Band


Doug Gray of Marshall Tucker Band had this to say about ITS Promotions. Having Donna asking me questions was super fun. After we got started it jelled into place. Then I felt like a peanut butter sandwich waiting on the jelly. Hand an hand we went.

---