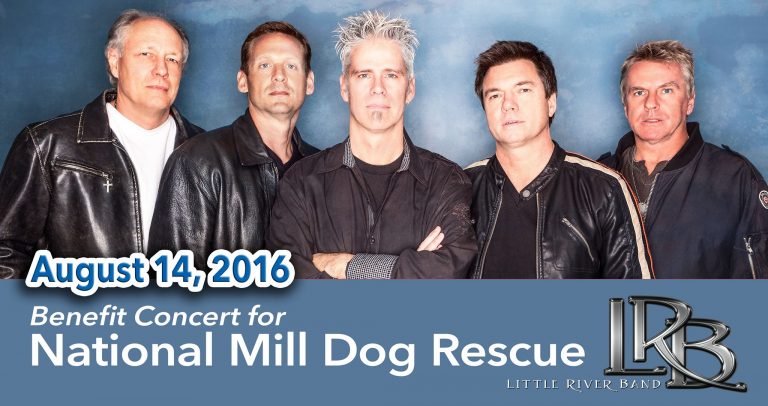 Little River Band doing benefit concert for National Mill Dog Rescue
Little River Band
will be doing a benefit concert for the
National Mill Dog Rescue in Peyton, Colorado
on August 14, 2016. All proceeds from this concert are going directly to the National Mill Dog Rescue.
Nashville based Little River Band who is best known for their mega hits like,
"Cool Change,"
"Take It Easy On Me,"
"Reminiscing,""Help is on its Way,"
"Lonesome Loser,"
"Man on your Mind,""The Other Guy,"
"The Night Owls," "Lady,"
and
"Happy Anniversary,"
plus many more will be rocking Peyton, Colorado and bringing back memories for folks in Hiawassee.
The National Mill Dog Rescue's mission is to rescue, rehabilitate and re-home discarded breeding dogs. This organization has rescued over 9,100 dogs since they began their crusade in 2007. Last month the lead singer of Little River Band, Wayne Nelson and his wife visited the rescue. The next day a hail storm destroyed part of the medical facility building. Proceeds from this concert will help NMDR rebuild.
The band won "Musical Artist of the Year," at the
Global Gaming Expo's
(G2E) Casino Entertainment Awards recently. Seeing them live will show you why. VIP Packages are already "SOLD OUT," but there are still general admission tickets available. Help LRB give back by attending the show. For more information regarding this wonderful event and to buy tickets,
click here
. Make sure to check out LRB'S main
website
along with their brand new
fan club
website and like them on
Facebook.
Little River Band Tour Dates
Aug 11 Monteith River Park Albany, OR
Aug 12 Tillamook County Fair Tillamook, OR
Aug 13 Isleta Resort and Casino Albuquerque, NM
Aug 14 National Mill Dog Rescue Peyton, CO
Aug 23 Central States Fair Rapid City, SD
Sep 02 American Music Festival Virginia Beach, VA
Sep 10 Clermont Performing Arts Center, Clermont, FL
Sep 15 Genesee Theatre Waukegan, IL
Sep 16 Oktoberfest Belleville, IL
Sep 17 Riverside Music Fest Riverside, MO
Sep 22 Turning Stone Casino Verona, NY
Sep 23 Virginia State Fair Doswell, VA
Oct 21 Pensacola Interstate Fair Pensacola, FL
Oct 30 Seagate Country Club Delray Beach, FL
Oct 31 Key West Theater Key West, FL
Nov 11 Medina Entertainment Center Medina, MN
Nov 12 Surf Ballroom, Clear Lake, IA
Nov 13 Deadwood Mountain Grand Event Center, Deadwood, SD Nov 18 The Golden Nugget Las Vegas, NV
Nov 26 Inn of the Mountain Gods Casino Mescalero, NM
Link for Little River Band - "Forever You, Forever Me"
https://www.youtube.com/watch?v=1Xoz8FCxqTU
​
For interviews please contact:
ITS Promotions
Donna Nolan-Wilson 615-301-8652
ITSEntertainment@msn.com
***Visit our website at
www.insidethesong.com
***
​