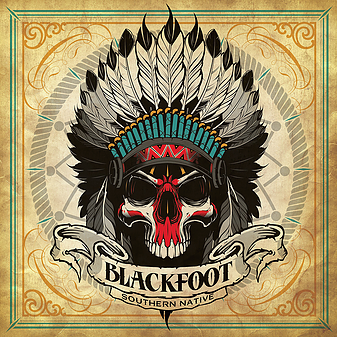 FOR IMMEDIATE RELEASE
Nashville
, Tennessee
August 1, 20
1
Blackfoot via Loud & Proud Records is set to release Southern Native on August 5th, 2016.
Blackfoot
, the Southern rock band formed in 1970's by current lead guitarist of
Lynyrd Skynyrd
,
Rickey Medlocke
is back with a new line-up. Their
Southern Native
on
Loud & Proud Records
is being released on August 5, 2016. Over the last two years, Medlocke wrote, performed on and produced
Southern Native
.
Carrying the torch for the next generation of Blackfoot and handpicked by Medlocke himself, the Jacksonville, Florida-based foursome, lead guitarist/vocalist Tim Rossi, guitarist/vocalist Rick Krasowski, bassist Brian Carpenter and drummer Matt Anastasi are carrying the torch for the next generation with their hard-driving southern rock sound.
"This record is head to head old school meets new school, classic to new rock for a brand new generation!" says Medlocke, "Turn it up loud!"
"Rickey bridged the generations by having his grandfather Shorty Medlocke play on those early Blackfoot records," said lead guitarist/vocalist Tim Rossi "so having Rickey play slide and other guitar with us on this record bridges the modern gap. It's a full-circle kind of thing."
​That forward-moving proof can be found deep within the music of
Southern Native,
from the proud heritage callbacks of the title track to the tasty slide-driven travelogue of "Take Me Home" to the harmonic ramrod-riffage twist on Crosby, Stills, Nash & Young's powerful "Ohio" (which includes quite a shrewd lyrical shout-out at the end).
Having toured extensively over the past few years to re-ignite their fan base, Blackfoot has introduced themselves and their music to even more southern rock fans. Blackfoot has been touring all summer in support of
Southern Native
. Summer tour dates left are below.
Track Listing:
01. Need My Ride
02. Southern Native
03. Everyman
04. Call Of A Hero
05. Take Me Home
06. Whiskey Train
07. Satisfied Man
08. Ohio
09. Love This Town
10. Diablo Loves Guitar
Tour dates
Aug 13 – Ringle, WI @ Q and Z Expo
Aug 19 – Dallas, TX @ Trees
Aug 20 – San Antonio, TX @ Cadillac Bar
Aug 27 – Oxford, AL @ Rumble Motorcycle Rally
Sept 2 – Tazewell, TN @ Smoke In The Valley
Sept 17 – Bainbridge, GA @ Flint River Jam
Sept 23 – Stafford Springs, CT @ Palace Theater
Sept 24 – Kent Narrows, ND @ Island Bay Day
Click here to order the CD on iTunes.
For interviews please contact:
ITS Promotions
Donna Nolan-Wilson 615-684-2072
ITSEntertainment@msn.com
***Visit our website at
www.insidethesong.com
***
​