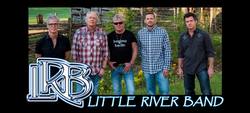 FOR IMMEDIATE RELEASE
Nashville, Tennessee
January 30, 2017
Little River Band helping to reunite Grandparents with their Grandchildren across the world
Little River Band
is helping to reunite a grandmother and grandfather with their 2 granddaughters all the way from Australia. The band has autographed a guitar that is
now available on eBay
. The
Go Fund Me
states that the family had suffered a hate crime in Australia. During that hate crime, the house the family lived in was destroyed along with all their possessions. The family has had to start all over again so there are simply no funds for a much needed visits. It is very clear that this family needs to come home for a long extended healing visit.
Little River Band
who is best known for their mega hits like,
"Cool Change,"
"Take It Easy On Me,"
"Reminiscing,""Help is on its Way,"
"Lonesome Loser,"
"Man on your Mind,""The Other Guy,"
"The Night Owls," "Lady,"
and
"Happy Anniversary."
The band continuously gives back by doing concerts to help raise funds for animal rescues, domestic abuse victims, cancer cures and more.
​
Little River Band is known as a high energy; fantastically tight unit. They have the reputation of being a band that keeps the audience on their feet. They perform the hits the way you remember them but with more feeling, vibe and energy than ever before. You can't help but move to the music and sing along with the Little River Band. They have kicked off the first show if their 2017 schedule.
January 28 - Trilogy – Orlando, Groveland, FL
February 3 - Sharonville Convention Center, 11355 Chester Road
February 4- Little River Casino Resort Event Center, 2700 Orchard Hwy, Manistee, MI
February 10- Peppermill Concert Hall, Wendover, Nevada
February 11- Avi Resort & Casino, Laughlin, Nevada
February 12- M3 Live, 2232 S. Harbor Blvd, Anaheim, CA
February 23 -Sobe Wine & Food Festival, Miami, FL
March 11 - Rock & Romance Cruise, out of Ft. Lauderdale, FL
March 12- Rock & Romance Cruise, out of Ft. Lauderdale, FL
March 13- Rock & Romance Cruise, out of Ft. Lauderdale, FL
March 31 - April 3 - Walt Disney World Resorts Florida, Epcot - America Gardens Theatre, Orlando, FL
April 7 - Florida Theatre, 128 E, Forsythe Street, Jacksonville, FL
April 8 - Ruth Eckerd Hall, 1111 McMullen Booth Road , Clearwater, FL
April 21 - Golden Nugget Grand Event Center, 2550 Golden Nugget Blvd, Lake Charles, LA
April 22 - Golden Nugget Grand Ballroom, 151 Beach Blvd., Biloxi, MS
April 29 - Historic Everett Theatre, Everett, WA
May 5 - River City Casino Events Center, 777 River City Casino Blvd, St. Louis, MO
May 6 - Ameristar Casino Hotel-Star Pavilion, 3200 North Ameristar Drive, Kansas City, MO
May 13 - Kingwood Square, 8 N. Main Street, Kingwood, TX
May 20 - St. Aloysius Gonzaga, 4366 Bridgetown Road, Cincinnati, OH
May 26 - Golden Nugget Casino Showroom, 129 E. Fremont Street, Las Vegas, NV
May 27 - Nugget Casino Resort, 1100 Nugget Avenue, Sparks, NV
May 28 - Nugget Casino Resort, 1100 Nugget Avenue, Sparks, NV
June 2 - Marina Civic Center, Panama City, FL
June 10 - America's River Festival, Port of Dubuque, Dubuque, IA
June 17 - Sky Ute Casino Resort Event Ctr, 14324 US Hwy 172 N, Ignacio, CO
July 14 - T. Furth Center for the Performing Arts, Angola, IN
July 22 - Southern Ground Amphitheater, 301 Lafayette Ave, Fayetteville, GA
August 5 - The Showroom at the Monroeville Convention Center, 209 Mall Boulevard, Monroeville, PA
August 12 - Holmes Country Fair, 880 OH-39, Millersburg, OH
September 23 - Warrenton Fall Festival, Warrenton, MO
September 27 - Private Event, Memphis, TN
October 10 - Georgia National Fair, 401 Larry Walker Pkwy, Perry, GA
November 4 - Prairie Band Casino Resort, Great Lakes Ballroom, Mayetta, KS
November 10 - Medina Entertainment Center, Medina, Minnesota
Here is what a recent venue had to say about them: "Perform," was a vast understatement, same with "remarkable." It was a revival, but not in the traditional sense of the word. No, it was a revival of many things: Of fun (yes, he promised us fun, but this much fun? Wow.) It was a revival of the spirit-of the spirit of music, and of a big block party and of friendship." You can see the entire review at
Pompano Today
.
Little River Band was awarded "Musical Artist of the Year," at the
Global Gaming Expo's
(G2E) Casino Entertainment Awards recently. Seeing them live will show you why. For more on Little River Band, check out their main
website
along with their brand new
fan club
website and make sure to like them on
Facebook.
​
For interviews please contact:
ITS Promotions
Donna Nolan-Wilson 615-301-8652
ITSEntertainment@msn.com
***Visit our website at
www.insidethesong.com
***
​