The Traveling Jalapeno's Debut CD is now available - Get autographed copy right here.
---

This wonderful Peppers Debut CD has 7 children's songs on it that will help teach children that being nice is a good thing. It teaches them about manners and more and they have fun while learning and singing along. The songs on this CD are:

Purchase the CD by clicking the Buy Now Button $12.00 including Shipping/Handling in the United States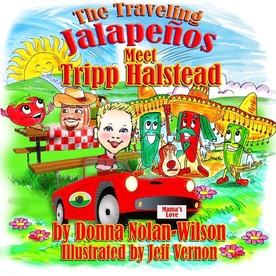 "The Traveling Jalapenos Meet Tripp Halstead" A book about the precious boy Tripp Halstead.

Like Them On Facebook
ORDER TRIPP'S BOOK and SONG AT THE SAME TIME BY CLICKING THE APPROPRIATE GREEN BUTTON TO THE RIGHT ABOVE!!

​CLICK TO HEAR
THE JALAPENO PEPPERS THEME SONG ON YOU TUBE!
The Peppers want to do something to help. Their mission always is to help bring awareness and change. They want to spend their time making a difference and they do it with love and songs. In this book, the Grande cousins, Rancho, Hector and Emilio meet young Tripp and learn about Traumatic Brain Injuries. They will spend a few days in the life of Tripp and learn about him and what other families like Tripp's family have to go through daily so the readers can to get a better understanding of TBI. We had a successful Kickstarter Campaign so the book publishing process is green lighted and in production.
A BIG THANK YOU TO ALL THE FOLKS THAT BACKED THIS BOOK PROJECT!!
LAUREN ESPOSITO, GREGORY WILSON, NICOLE DIPIETRO, ANNETTE CONLON, CHRISTIE DANIEL, JESSICA STUBBS, JACKIE GARNER, JUDIE HOGG, FAITH MULACH, KAREN BRADSHAW, MISSY STALLARD, KATHY SNYDER, KIMBERLY SCHNETTERLY, SHIRLEY JUNG, EDNA CAVANAUGH, LAURA WISE JOHNSON, JACLYN NEIL, DIANE GOODYEAR, KAREN NEIL, DOREEN HOBBS, NANCY GUITARD, SANDRA CAPPS, CONNIE WOODS, KEEK, CINDY PARIS, PAMELA DITSCH, VICKI ODOM, MARTY LEBLANC, TAMI STEELE, SANDRA BOWER, CAROL ESPOSITO, PATRICIA JONES, DEWEY KINCHEN, DARLENE WILLIAMS, DEBRA DETHERAGE, DEBI GODWIN, ANN COFELL, MARY MARTIN, MEGHAN RICHARDSON, NANCY ELKINS, D-C LUCEY FARM, TATIANA GANDOLFF, ROBIN WHITLEY, MARSHA STONE, STACY SCHAEFFER, JUANITA GARNTO, GAIL THOMAS MCPHAIL, MARILYN SUSIE, INA SASSOON-COHEN, MICHELE AUBIN, KELLY HAWSEY, GALE PELL, ANGELICA GARRISON, VIRGINIA DEL VECCHIO and HOLLY RORIE!!
You can order the book right here and you can also download the heart felt song, "Be The Change," from iTunes. Listen to the song! You can view the music video for the song at YouTube.
If you want to order a 1st Edition Autographed book and you don't like to use the internet to order things, you can send a check in the amount of $30.00 made payable to Donna Wilson, C/O ITS Promotions, P.O. Box 161, Smartt, TN 37378 - The $30.00 includes shipping/handling of the autographed book in the US ONLY. Please email about International purchase at ITSEntertainment@msn.com
---
I am participating in the 27 Day Miracle Challenge. If you purchase a "The Traveling Jalapenos Meet Tripp Halstead," book, I will donate 1/2 the proceeds less expenses to the Miracle Challenge. Order your 1st Edition autographed copy today while they last.
The Original Traveling Jalapenos & More



Featured Package
From my house to yours: Get a copy of the first book - The Traveling Jalapeno's, The All Access CD (with 16 songs on it) Love Story CD ( 6 Pack with Bonus Track) and the Veterans DVD with the 3 Tribute Music Video's (Duty Called, Purple Heart and Second Son). $80.00 value for $40.00 includes S & H in the US - Click the Featured Package Button below to order!If all you are interested in is the personalized/autographed/signed copy of my family friendly book - 'The Traveling Jalapeños,' it costs $20.00 including shipping/handling in the United States. Order it by clicking the green button that says 1st Peppers book. If you live outside the United States it will cost you $30.00 including shipping/handling to other countries. If you don't like ordering things via the internet, you can send Money Order or Checks to Donna Wilson, P.O. Box 161, Smartt, TN 37378
Check out ALL my CD's, Books and DVD's at: www.NolanWilson.com
---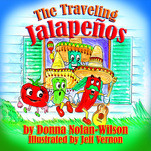 Donna Nolan-Wilson's first family friendly book, "The Traveling Jalapenos," was published in October of 2013. If you don't want an autographed copy and you want to pay full price, you can CLICK HERE TO ORDER FROM AMAZON
---