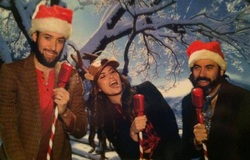 FOR IMMEDIATE RELEASE
Nashville, Tennessee
December 7, 2015
Angel Mary and the Tennessee Werewolves:
Christmas 4 Kids, #1 on Renegade Radio and new show dates in 2016
Angel Mary and the Tennessee Werewolves will be one of the very talented music acts signing on a tour bus at the Annual Christmas 4 Kids event on December 14th, 2015 from 5:00 to 9:00 p.m. at the Wal-mart Shopping Center, 204 Anderson Lane North, Hendersonville, TN 37075
The
Christmas 4 Kids
Tour Bus show lets the fans get up close and personal with their favorite celebrities on their tour buses. Other artists donating their time this year at the Christmas 4 Kids Tour Bus Show are Lonestar, Craig Wayne Boyd, 38 Special, 3 Doors Down, The Bellamy Brothers, Trick Pony, Hannah Bethel and Lucy Angel.
About Christmas 4 Kids: Christmas for Kids is a Non-Profit Organization that was incorporated in 1992. For over 30 years Christmas 4 Kids have brought the joy of Christmas to middle Tennessee children that might not have otherwise experienced it. Each December recording artists, bus drivers, celebrities, local businesses and volunteers set aside two days to help these children.
Angel Mary & the Tennessee were just notified that their single
"Ramblin,"
is #1 on Renegade Radio this week, Nashville's premier digital radio station. Their upcoming shows are January 16, 2016 at Pistons Bar in Evansville, Indiana and Jan. 30th 10pm at High Watt in Nashville.
Angel Mary & the Tennessee Werewolves
are a high energy sensational rocking Country family trio who bring a rebel yell and exotic feel to country music. Outlaw to the max this band consists of Angel Mary on lead vocals and guitar, Christian Wolf on vocals and drums, and Antoine Wolf on vocals and bass guitar. Make no mistake about it, this is a Family tradition."
You can find out more about Angel Mary and the Tennessee Werewolves by liking their page at
Facebook
and visiting
their website
.
# # #
Press Contacts:
For Interviews with AMTW
ITS PR, Publicity, Promos & Possibilities
Donna Nolan Wilson (615) 301-8652
Email:
ITSentertainment@msn.com