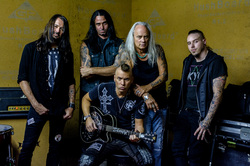 FOR IMMEDIATE RELEASE
Nashville
, Tennessee
August 28, 2015
Rickey Medlocke reunites with Blackfoot as special guest for limited select dates.
It has been more than 20 years since Rickey Medlocke has been on stage performing with Blackfoot but that is about to change with the announcement that Medlocke will be performing with the band for several incredible shows this coming November, 2015.
Medlocke is best known for his forming of the band Blackfoot early in his musical career starting in the 1970's and lasting until the early 1990's selling more than 5 million records. In 1996 he started performing with Lynyrd Skynyrd and has been doing that for nearly 20 years. Medlocke has done some special guest appearance shows with Blackberry Smoke and Shooter Jennings. More recently he has appeared on American Idol playing lead guitar to "Sweet Home Alabama" for finalist Bo Bice. The upcoming shows with Blackfoot are as special guest as he remains a full time member of Lynyrd Skynyrd.
Blackfoot is getting ready to release a new CD with many of the tracks being co-written and produced by Medlocke.
At the time of this press release, the special guest event shows scheduled are:
· November 19, 2015 at the Blue Ocean Music Hall, Salisbury, MA.
· November 20, 2015 at the Seneca Casino in Niagara Falls, New York.
· November 21, 2015 at the Beacon Theatre in Hopewell, Virginia.
More shows are currently being confirmed. These shows are expected to be "sold out" immediately so fans that have been waiting for this to happen need to be ready as soon as tickets become available for sale.
For more on this special guest events and Rickey Medlocke, visit the
Blackfoot website
and make sure to like him on
Facebook
.
For interviews please contact:
ITS Promotions
Donna Nolan-Wilson 615-684-2072
ITSEntertainment@msn.com
***Visit our website at
www.insidethesong.com
***