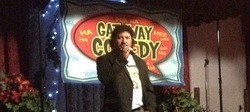 FOR IMMEDIATE RELEASE
Nashville, Tenn. (September 28, 2014)
ITS Entertainment and Promotion are very happy to announce that Comedian Joe Capella has become part of their very talented roster of entertainers

ITS has been booking, promotion and handling PR and publicity for Entertainment professionals since the year 2000. The most required criteria that ITS has when considering an act is that it really has to believe in the acts that they chose to represent. This means that they only offer premier top shelf acts.
ITS mission for Comedian Joe Capella is to help grow his brand while garnering him added exposure gaining him forward motion and momentum in his career.
About Joe: A teamster for most of his life, Joe is pretty new to the world of comedy and is taking to it like a fly on sugar. He is a natural with his sarcastic New York attitude and gets the grouchiest of audiences laughing in no time. Check out
Joe in Action
! Joe is a real life New Yorker using life experiences both triumphant and not so triumphant feeding and morphing into material he uses during his show.
# # #
Press Contacts:
For Comedian Joe Capella
ITS PR, Publicity, Promos & Possibilities
Donna Nolan (615) 684-2072
Visit our website at www.InsideTheSong.com**