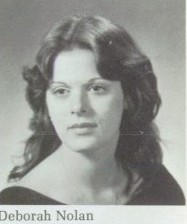 On the 2nd day of my sisters wake, a nun came in and asked us if there was anybody that wanted to say anything about my sister. The day before I sat at my computer and wanted to write something. At first I thought I wouldn't be able to write anything but suddenly I started typing away and the words just flowed. I never thought I could get through reading this and although I had to sit while I read it as my knees were weak, I did read it and was able to get through the whole thing without breaking down. This is what I said about my sister. Add your memories of Debbie at my
BLOG PAGE
This writer has lost her words. They left with my sister. I must push past the pain of this aching grief and find the words to honor her. First and foremost she didn't want any of us to be sad. Debbie believed in the afterlife. She believed that there was something after this as proven in the songs being played today. Listen to the songs; there are messages to all of us in those songs. Last year I traveled from TN to Long Island to say goodbye to my sister. After arriving we discussed and decided that there is no way to say goodbye and that we just did not have to.
Debbie was the first born and a 2nd mother to all of us. She was the peace maker and the peace keeper. She was the warrior to the underdog, whether you were a family member or not. She saw hope in the hopeless and she loved unconditionally.
Debbie loved her husband and her daughters. That won't stop now or ever. That love surrounds them and she told me she would find ways to show them that. She will be the ladybug that comes out of nowhere and lands on your windowsill. She will be the whispers in the wind and that soft touch you feel on your cheek when nobody is there. Love like this does not die. It lives forever.

Debbie said she would come back a ladybug. She did better than that. Debbie sent a ladybug to help get me ready. That ladybug sat on my computer screen, my windowsill and my hand while I worked. At first I was not sure she was sent by my sister but as the months ticked by and the ladybug started slowing down, I became sure. My ladybug arrived in August. She stopped flying on December 11th. I took pictures of her and put her up on my Facebook page. As I saw my ladybug slowing down, I feared my sister was failing too and she was. Little ladybug passed on December 13th around the same time as my sister. It is all more than just coincidental to me. I don't know how she did it but I believe she sent that little ladybug to get me ready.

Christmas was a very special time of year for Debbie. The doctors had indicated that she would not live to see Christmas 2012 but she was determined to have that one last Christmas Eve at her house and she did.

In starting her journey in the here and now and with Christmas upon us, she brings us all together at Christmas time 2013. This is the first time her mother and all her siblings have been together at the holidays in 20 years and I can't help but feel that Debbie is smiling about that.
I am going to do what my sister wanted me to do. I am going to be strong and carry on. I am going to be there for her daughters when they need me and I am going to do things that I know she would approve of and tickle her silly.
Debbie is braver than me. That was no better illustrated than when we were children and teens. She would take a leap and I would follow. She always went first to show me that I could do it. That's what big sisters do. With that, we did most of our firsts together and that usually got us into a lot of trouble.
Debbie wanted me to make sure that shortly after her crossing over that I made phone calls to the people she knew would be most affected by her passing. That was Debbie.

Debbie always took care of everybody and put everybody first. She was so modest and didn't understand why I considered her my hero. I am glad I got to tell her the reasons why. I thank GOD for her. My time with her, the love we shared and all the precious memories. I will do my best to keep her memory alive and I will share my memories and stories of my sister with her daughters.
Debbie came into this world and with her birth she became a daughter, granddaughter, sister, niece and friend. She was Godmother to my daughter. She married and became a wife and a mother. Debbie was a very hard worker and in fact worked from the age of 16 until she was forced to go out on disability 19 months before her death. She worked for 10 years enduring chemo & radiation during the entire decade. Everyone marveled at her strength and courage. There are two things that Debbie is/was most proud of in this world and they are her daughters, Melissa & Nicole. I cannot adequately describe the pride and love my sister feels for her daughters. They are her legacy.

While writing this, I asked Debbie if there is anything she wanted me to say to everyone and I swear I could hear her say, "just tell them I love them and I am okay." ~~~~~~~~~~~~~~~~~~~~~~~~~~~~~~~~~~~~~~~~~~~~~~~~~~~~~~~~~~~~~~~~~~~~~~~~~~~~~~~~~~~~~~~~~~~~~~~~~~~~~~~~~~~~~~~~~~For a look at a very happy day in Debbie's life, click the link to view Randy Jackson singing HAPPY BIRTHDAY to Debbie at her job on April 24th, 2008! Zebra was always one of Debbie's favorite bands and she had quite a crush on Randy when she was a teen so I asked him to sing Happy Birthday to her and he did. !
http://youtu.be/OtRRsV8oTHU